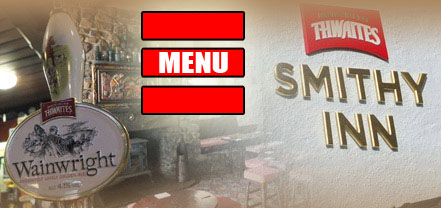 Welcome to the Smithy Inn Holme
A traditional village pub offering high quality food and ambience. The Smithy Inn is a perfect place to meet friends, unwind and soak up the atmosphere of the delightful Lancashire village of Holme. Please Note:-
The following menu is experimental and does not represent our menu.
Milnthorpe Road - Holme
Carnforth - Lancashire - LA6 1PS
Tel: 01524 781302
Your Hosts
Tom and Pam Baxter afford you a friendly welcome to the delightful Smithy Inn in the tranquil village of Holme, North Lancashire.
The Area
The journey to the Smithy Inn, through the surrounding, undulating countryside is a treat in itself, yet it is surpassed by the welcome you receive from the proprietors of this popular hostelry on the edge of the
Cumbrian National Park.
The Location
The Smithy Inn is ideally situated on the Lancashire Cumbria border as a place to break your journey to the Lake District, Scotland or the Highlands and Islands.
The Food
All the food served at The Smithy Inn is prepared from the finest of ingredients and freshly cooked to order, this may mean you have to enjoy their convivial atmosphere a little longer, especially during busy periods.
Booking
Booking is advisable at weekends and Bank Holidays and at other times to ensure you get the opportunity to sample the sumptuous fayre available at this traditional village inn.
Smithy Inn
Traditional Village Pub
Holme - Lancashire
Meals on Wheels

The Smithy Inn offers a Meals on Wheels service delivering hot meals, three times per week to the elderly in the village. This service is offered on either a temporary or permanent basis.
Contact Pam on 01524 781302 for further details

Days
Bar Hours
Food Served

Theme

Fish and Chips Take Away
available during the hours below
Monday
5pm - 11pm
No Food Served Monday
Tuesday
12pm - 2.30pm
5pm - 11pm
12pm - 2pm
5pm - 8pm
Steak and Sauce Night 6pm - 8pm
Wednesday
12pm - 2.30pm
5pm - 11pm
12pm - 2pm
5pm - 8pm
Curry Night 6pm - 8pm
Thursday
12pm - 2.30pm
5pm - 11pm
12pm - 2pm
5pm - 8pm
Over 60's Lunch
Quiz Night (Most Thursdays in Winter)
Friday
12pm - Midnight
12pm - 2pm
5pm - 8.30pm
Fish Special (Lunch Time Service Only)
Saturday
12pm - Midnight
12pm - 2pm
5pm - 8.30pm
Sunday
12pm - Midnight
Lunch Menu All Day
12pm - 8.00pm
Great Food, All Day
#kkk